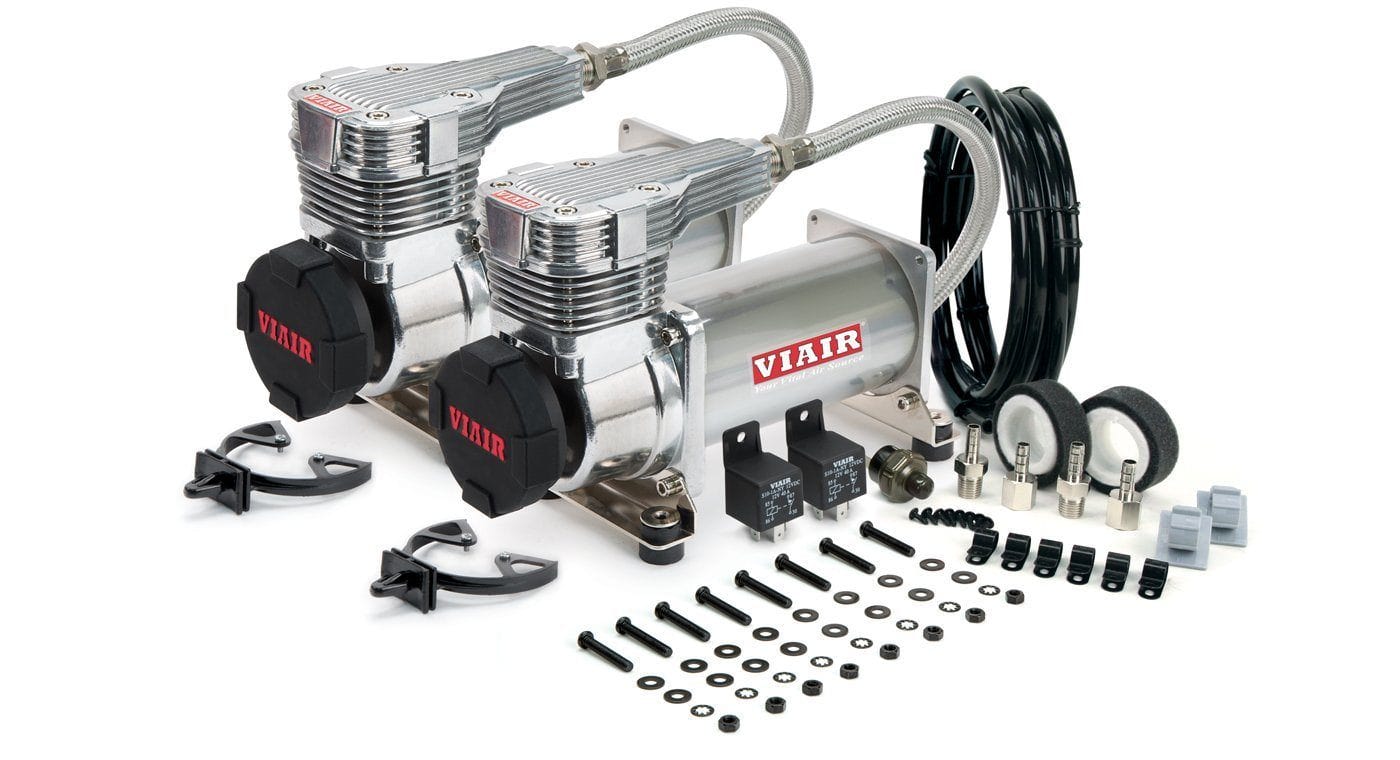 Viair 425C Dual Pack Platinum Compressors
The new Viair 425C dual pack brings previously unseen speed and reliability to your system two of Viair's first compressors to feature a duty cycle of 33% at 175 PSI, and 50% @ 100 PSI. This gives you a dual pack of air compressors that is extremely quick and can handle a hefty workload as well. With a combined CFM of 4.88, the Viair 425C is one of the most powerful compressors offered by Viair. With two you can power up to 10 gallons of air and get insane refill and recharge times. The Viair 425C's can recharge a 2-gallon tank from 140 to 175 PSI PSI in an insane 28 seconds and recharge a 5-gallon from 140 to 175 PSI tank in only 57 seconds! With speeds this fast, the Viair 425C dual pack is perfect for anyone that needs a quick and responsive system for their train horns or suspension system. 
The Viair 425C dual pack comes complete with a remote mountable intake filter assembly, or "Air Filter Snorkel Kit", allowing you to relocate the air filter up to 6 feet away to keep it away from moisture and debris. It also includes a standard 1/4″ NPT stainless steel braided leader hose with check valve and insulated wiring for fast installation, as well as two heavy-duty 40-amp relays and a 140 PSI cut-on, 175 PSI cut-off heavy-duty pressure switch.
This compressor does come with the option to add our 40 Amp Dual Air Compressor Wiring Kit to it as well!
Note: Use thread sealant for proper installation. Thread tape is not recommended. Properly sealed, recommended torque for 1/8″ is 10 ~ 11 ft. lbs. Recommended torque for 1/4″ and 3/8″ is 12 ~ 15 ft. lbs.
PSI
CFM
A
BAR
LPM
A
0
4.80
40
0
136.0
40
10
4.63
43
1.0
125.0
45
20
4.42
47
2.0
118.0
48
30
4.15
48
3.0
111.0
53
40
3.93
52
4.0
100.0
55
50
3.70
54
5.0
95.0
56
60
3.53
55
6.0
84.0
57
70
3.35
56
7.0
80.0
57
80
3.18
57
8.0
72.0
57
90
2.98
57
9.0
69.0
56
100
2.83
57
10.0
59.0
55
110
2.68
58
11.0
55.0
53
120
2.55
57
12.0
49.0
51
130
2.44
56
140
2.27
55
150
2.10
54
 
 
 
160
1.95
53
 
 
 
170
1.80
52
 
 
 
175
1.74
51
 * Supply Voltage: 13.8 Volts
| 2.5 GALLON TANK | FILL RATE |
| --- | --- |
| 0 to 175 PSI | 1 min. 40 sec. (± 05 sec.) |
| 140 to 175 PSI | 28 sec. (± 03 sec.) |
| 5.0 GALLON TANK | FILL RATE |
| 0 to 175 PSI | 3 min. 06 sec. (± 10 sec.) |
| 140 to 175 PSI | 57 sec. (± 05 sec.) |
* Supply Voltage: 13.8 Volts

Included Parts:

- (2) 485C (Platinum) Compressors- # 48532
- (2) Air Filter Assemblies
- (2) Remote Mount Brackets
- (2) Sets of Remote Mount Fittings
- (2) Sets of Spare Air Filter Elements
- (2) Leader Hose Clips
- (6) Air Line Clips with Included Hardware
- (8) Sets of Nuts, Bolts, Washers and Lock Washers
- (1) Heavy Duty Tube Style Fuse Holder (Up to 60-Amp fuse)
- (2) Heavy Duty 40-Amp Relays
- (1) One Heavy Duty Pressure Switch (165 PSI on, 200 PSI off)
- (2) Stainless Steel Braided Leader Hoses with Inline Check Valve
- Air Line (For Remote Mount Filter Installation)
- (2) VIAIR Removable Filter Covers

Specifications:
- 12-Volt DC
- Permanent Magnetic Motor
- Duty Cycle: 100% @ 200 PSI
- Max. Working Pressure: 200 PSI
- Max. Air Tank Size: 10.0 Gallon
- Max. Amp Draw: 46 Amps (23-24 AMP Each)
- Ingress Protection Rating: IP67
- Dimensions: 10.625" L x 4.125" W x 6.4375" H (269.875mm L X 104.755mm W X 163.5125mm (Each Unit)
Fill Rates
Performance Data Chart
Voltage: 12 Volts DC
Max Amperage: 6

0 amps

Maximum Duty Cycle:

 

50% @ 100 PSI
Maximum Pressure: 175 PSI
Max Tank Size: 10 Gallons
CFM @ 0 PSI: 4.80 CFM
Compressor Length: 9.25″ (234.95 mm)
Compressor Width: 

4.14″ (105.15 mm)

Compressor Height: 6.59″ (167.38 mm)
Weight: 22.10

 lb (10.02 Kg)