OBD II Speedometer/ Tachometer Interface
OBD II Speedometer/ Tachometer Interface
From Dakota Digital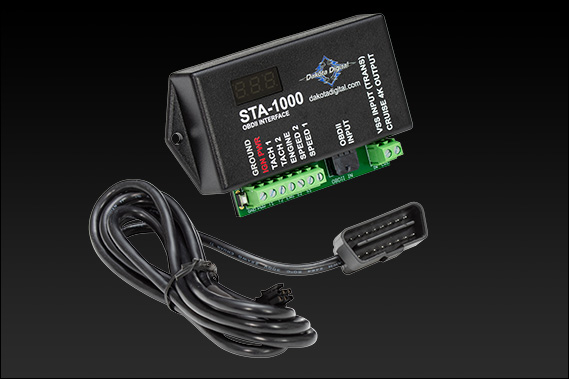 The Dakota Digital STA-1000: Late-Model Drivetrain integration has never been simpler! The STA-1000plugs directly into the OBDII diagnostic connector, providing a user-adjustable traditional Speedometer, Tachometer and Check-Engine output for your choice of aftermarket instruments.
Features:
Fully compatible with common aftermarket electronic speedometers 
User selectable output of: 4k, 8k, 16k PPM signals, Sine or Square wave options 
+/- 25 percent speed signal correction, compensating for tire size or gearing changes
Adjustable 4, 6 or 8 cylinder tachometer signal output
Check Engine light output provides a grounded (-) output to activate a check engine light of your choice
Automatically calibrated output for an aftermarket cruise control can be activated by making connection to the higher-resolution fixed VSS sensor
Small footprint measures 4-3/4"x 3"x 1" making it easy to hide
Compatible with J1850 and CAN OBDII protocols**

**Compatible with OBDII protocols SAE J1850 VPW, SAE J1850 PWM and ISO 15765 CAN 500k 11 bit identifiers that follow the SAE J1979 PID protocol.