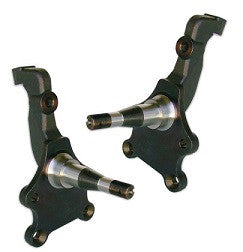 1968-1972 A-Body - Spindle
The RideTech spindle is a heavy duty forging that is approx. 1.75" taller [balljoint to balljoint] than the OEM spindle. This basic geometry change increases the camber gain during suspension compression [allows the tire to lean into the turn instead of away from the turn]. The RideTech spindle also has a pin height that is 2" higher than the OEM spindle. This means that your car will sit 2" lower than it would with the OEM spindle.

We have personally used this spindle on our own track cars with great success over the last 4 years. We have used both Wilwood and Baer brake kits designed for the GM A body with this spindle. The RideTech spindle is compatible only with aftermarket tubular control arms like our RideTech StrongArms.
*Sold in pairs