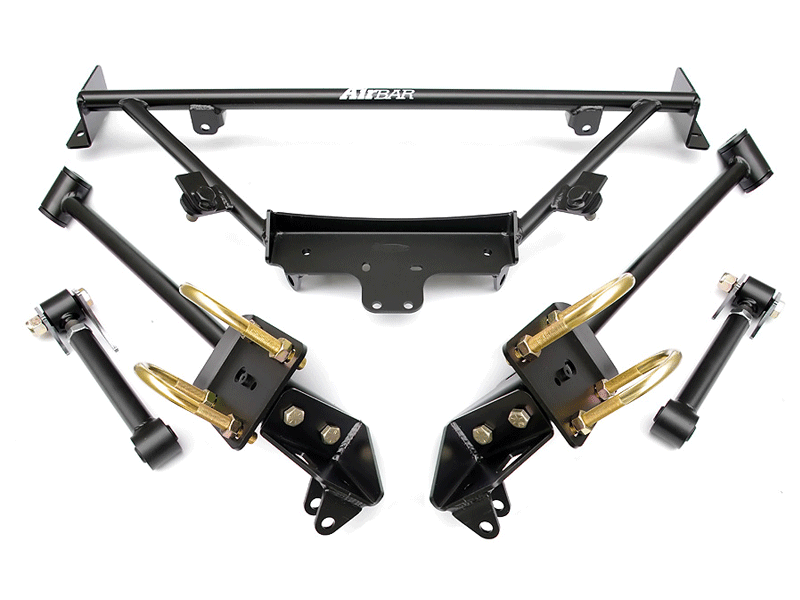 1964-1970 Ford Mustang - Bolt-On 4-Link
Muscle cars have always been the backbone of hotrodding...and now they are hotter than ever! The problem is nobody wants to put up with the ride quality, handling, and braking technology of 40 years ago. After driving a new Camaro or Mustang, the compromises of a standard leafspring suspension just doesn't cut it! Now there is a solution......
The Ridetech Bolt-On 4-Link installs onto the oem leafspring mounts of your prized musclecar... no cutting, no fabrication, just 4 small tabs to weld to the axle for your upper bars. The ride height of your car is typically lowered by approximately 2". The ride quality is dramatically improved over stock... instead of a wallowing soft ride you'll experience a crisp, controlled ride quality that will inspire more confidence for performance driving.
The area of largest improvement is the handling and cornering performance. The system eliminates the oem leafspring and replaces them with a 4 link rear suspension. The 4 link bars offer more precise positioning of the rear axle to eliminate flexing and increase stability through the corners. When combined with a ShockWave or a Ridetech Coil-Over front suspension kit your classic musclecar can now enjoy the benefits of modern handling and ride quality technology.
If you want your classic muscle car to ride and drive like a modern performance car, the Bolt-On 4-Link system is the perfect solution!

We wouldn't expect you to bolt on any suspension component that we haven't thoroughly tested. We regularly use our cars in a wide range of performance driving environments, as well as plain ol' highway time. Our 4-link systems have proven time and time again to provide not only ground shaking traction, but a great highway ride as well.
Instructions (12087199.pdf, 1,287 Kb) [Download]